Protect yourself and your mail contacts with CheckBCC for Outlook
CheckBCC is an add-in for Outlook that protects you from accidentally sending e-mails to a large number of recipients openly visible in the To or CC field. Typical cases are, for example, an e-mail to a distribution list where you have placed the list in the CC field instead of the BCC field, or an accidental click on "Reply to all". Before you know it, you have transmitted your complete customer list to all your customers or, as in the screenshot, you have revealed confidential information, which is not only unpleasant, but also a violation of the rules of the GDPR (General Data Protection Regulation).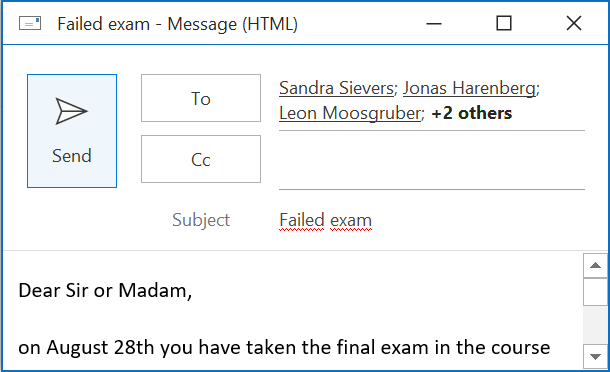 CheckBCC warns you before the mail is sent.
With CheckBCC you no longer need to worry about this. Whenever you send an e-mail, CheckBCC becomes active and checks how many openly visible recipients are specified. If their number exceeds a limit set by you, CheckBCC asks if it would be better to move the recipients into the BCC field. (Of course, you can also decline this if you really want to send an e-mail openly to many recipients on one occasion).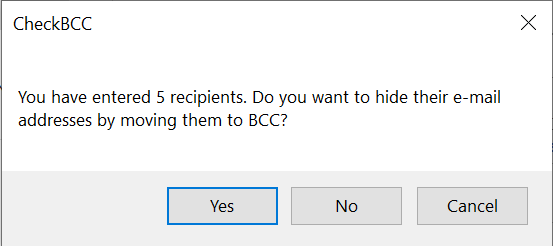 Of course, this does not only work if you have specified individual recipients as in the example, but also if you send an e-mail to a distribution list.
Compatibility
CheckBCC works with Outlook for Windows from version 2010:
Outlook 2010
Outlook 2013
Outlook 2016
Outlook 2019
Outlook 2021
Outlook 365
It works with all e-mail accounts set up in Outlook, regardless of whether they are Exchange, IMAP or POP accounts.
Languages
Price for a single license:
€ 4.99 (about $ 5)
Special conditions
from 10 licenses on request

Have we aroused your interest? Protect yourself today against accidental dispatch to open distribution lists and order your license for CheckBCC: